For women with premenstrual disorders like PMS or PMDD it is helpful to fill in a symptom diary for a couple of months prior to the consultation. Keeping this diary will show if your symptoms are cyclical in nature and related to your menstrual cycle. For each symptom use a scale from 1 to 3 (mild to severe). This will give a representational overview of the severity and frequency of your symptoms. Please leave those boxes blank that are not relevant to you, if you have any questions please do not hesitate to ask. 
Please click the button to download the symptom diary:
Further resources: 
Links Dr Mandy Leonhardt's books, articles, podcasts & webinars:
Dr Leonhardt's book The Complete Guide of POI and Early Menopause is available on Amazon UK and all other bookstores.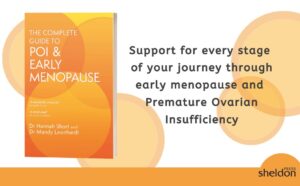 Television:
Dr Leonhardt contributed to the menopause segment of a four part women's health program for Channel 5 TV called Women's Health: Breaking the Taboos  which was aired in July 2022 and this is still available to watch via My5.
Scientific publications:
Dr Leonhardt has written an article about 'Low mood and depressive symptoms – Should General Practitioners prescribe Hormone Replacement Therapy or Antidepressants as the first line treatment?', which was published in British Menopause Society's journal Post Reproductive Health. You can read and download a free copy of the article here:
Menopause societies & support groups:
Gynaecology services:
PMS/PMDD:
Menopause Cafes:
The Menopause Café concept is a social franchise which was started by Rachel Rowan from Perth in Scotland. These pop up events are free and provide an opportunity for women (and man and everyone else who is interested) to exchange experiences and to have conversations about any issues related to menopause in a safe and confidential space alongside a cup of tea, coffee and cake. Our Menopause Café was featured on TV by BBC Southwest lunchtime and evening news as well as on BBC Solent Breakfast Radio.
Nutritionists:
Personal trainers & exercise programs for women:
High quality Sexual toys, lubricants and pelvic floor gadgets:
I am a contributor (Doctor in Residence) for the online lifestyle magazine HerHampshire: